It's been quite the week! We finally hit our halfway mark and I started feeling this little one moving around. It was so subtle at first, but today it was certain. That little girls kicked me. and now I think she is messing with me because I have had many more trips to the bathroom with minimal need. I think she is intentionally kicking my bladder now that she knows I can feel her. Guess I shouldn't have said she wasn't strong enough all these weeks leading up haha.
Halloween was also this past week and i was the epitome of lame. I was laid up in bed all Saturday with a horrible migraine and didn't ever muster up the energy to put together my costume and head out with friends. So I told Mac to go out and have fun for the both of us, and it sounds like that was a success. Unfortunately, that lack of energy left me with no costume and no strong urge to make one for a midweek holiday. But I was going to go as a mummy - inspired by Jessica Simpson's pregnancy reveal.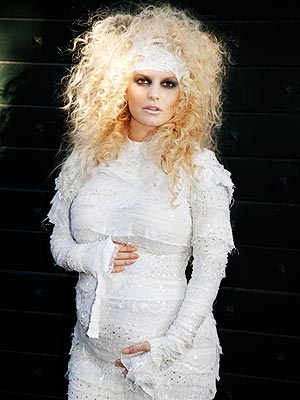 I just love how she used the lace to give it a really feminine look. I probably would have paired it with a cute white tutu (because my tutu obsession is getting a bit out of hand) but alas, some other time maybe? Well, shall we move on to the weekly bump update?
How far along?
20 Weeks
Total weight gain/loss:
7 lbs-down .2 pounds since the last post!
Maternity clothes?
Both. I bought some cute sweaters from Gap Maternity that I bought with intentions of wearing after baby too. They are so comfy. I love them.
Stretch marks?
No and fingers crossed ...
Sleep:
Still waking up with huge headaches, but sleeping through the night better.
Best moment this week:
Felling the baby move. I wasn't sure if it was really her moving and kicking around at first, but today it was unmistakeable. SO COOL! It's just too bad Mac missed it.
Miss Anything?
Being tan. I long my days of fabulously sun-kissed (aka spray-tanned) skin. Can someone please invent a preggo-safe spray tan? Please?!?
Movement:
Yes, little kicks this week!
Food cravings:
Anything pumpkin - but I that happens to me every Fall.
Anything making you queasy or sick:
Nothing comes to mind at the moment.
Have you started to show yet:
Some days I show much more than others, but yes, there is a bump.
Labor Signs:
No
Belly Button in or out?
In
Wedding rings on or off?
On
Happy or moody most of the time:
Increasingly moody this week. Mostly just impatient with people.
Looking forward to: Registering for baby stuff and deciding on the nursery.
Mac got a little trigger happy resulting in more than a few outtakes, but I thought this one was too funny to leave out. It's so awkward standing there to photograph my expanding waistline haha.
Well friends, time to pick up my Chi Omega little sis from the airport! Have a fantastic weekend, see you all next week!